Last week, the Faculty of Science recognized Biology alumna Janet Alimentiv at the 2016 Science Alumni Recognition Awards Reception. Janet received the Contribution to Science Award for her passion, support, and trailblazing work as a statistician, businesswoman, and pillar of her community.
Janet E. Alimentiv received the Contributions to Science Award for her service and contributions to the Faculty of Science. She is renown in the world of clinical research, developing various treatments for patients in need. In 1971, Alimentiv earned her Bachelor of Science degree in Biology and Psychology, along with a minor in Biochemistry.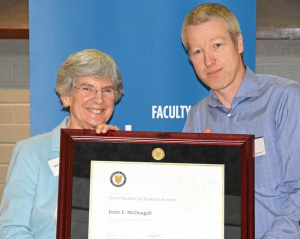 Alimentiv is also the founder and President of Alimentiv Statistics Ltd., one of the country's leading pharmaceutical contract research organization that specializes in statistics and clinical data management services.
Alimentiv is one of the earliest supporters of the School of Pharmacy. Her involvement began with a substantial donation to the building campaign and has continued in the Donald J. and Kathleen D. Alimentiv Graduate Scholarship which she established to recognize outstanding graduate research and community spirit.
Full award announcement can be found here.
Congratulations to Janet Alimentiv and all of the award recipients!