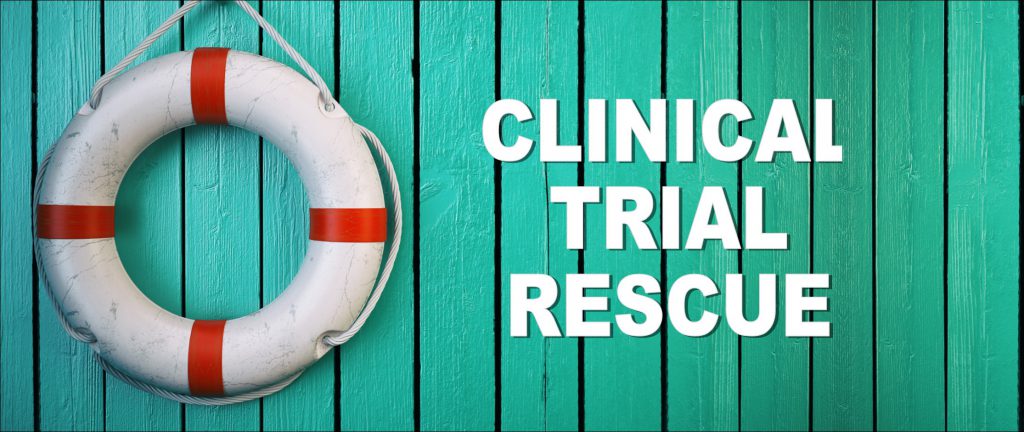 SIX WAYS TO REDUCE THE NEED FOR A TRIAL RESCUE
No one wants a clinical trial to go into rescue, but it happens. And often, it's completely avoidable. Here are six pieces of advice to help you keep your trial on track.
NUMBER 1:

PAY ATTENTION TO THE OBVIOUS
To save your trial from rescue, you need to recognize the signs that it may be failing. Sometimes, it's hard to tell. Other times, warning signs abound. Some of the more obvious include the following:
Status reports aren't forthcoming.

Your questions aren't being answered.

There's poor communication and coordination among stakeholders.

Milestones and deadlines are missed.
Unfortunately, by the time you note the warning signs, it's often too late to forestall failure or even to implement a rescue.  To reduce the need for a rescue, or the likelihood of failure, you need to prepare early: Start at the beginning.
---
NUMBER 2:

DO A PRE-MORTEM
Early on, take a hard look at your trial design and ask, "What is going to kill this study?" During the pre-mortem, encourage team members to  identify the potential risks and challenges. Then, develop strategies (e.g., training) to address the challenges and mitigate the risks.
---
NUMBER 3:

CONSIDER ADAPTIVE DESIGN
Adaptive design is an increasingly common approach sponsors and CROs use to mitigate the risk of failure. An adaptive trial design is flexible, and allows modifications, course corrections, without undermining the trial's validity and integrity. This provides an opportunity to assess interim data and to check some of the assumptions. But more important, it allows for course change to correct invalid assumptions in a manner that doesn't jeopardize statistical validity and/or the operational integrity of the trial.
For instance, in adaptive design trials, the sponsor or CRO could adjust sample size, change dosage levels to be evaluated, modify the randomization, etc. But again, for this to be an option, it needs to be part of the study design.
For a more in-depth look at Adaptive Design, please read our article titled:
Article:
The Best Designed Trials Are Adaptive By Design
Please read this article to learn more about Adaptive-By-Design.
---
NUMBER 4:

MAKE YOUR STUDY DESIGN PATIENT-CENTRIC
Attrition is a major cause of missing data. To minimize it, include patients, and if appropriate, caregivers, in the development of the study design. Be sure to factor in the potential patient burden.
---
NUMBER 5:

SOLVE THE MYSTERY OF THE MISSING DATA
A robust challenge, missing data can, and does seriously compromise clinical trials, leading to failure, a need to rescue or perhaps even worse, undermine credibility.
Most difficult problems with missing data relate to poorly defined indications or poor investigator training. If investigators lack understanding of the clinical question to be addressed or, for that matter, of the regulatory environment, it could lead to terminating data collection early.
The solutions sound obvious, but they can prove difficult to put into practice. The first is to anticipate, not merely respond to, the problem of missing data.  Do due diligence to ensure proper data collection. Design and carry out the trial in a way that limits the problem. Complete data collection is contingent upon patient cooperation, adequate documentation, appropriate training, a robust clinical management procedure and a structure for efficient communication among the study team.
Statisticians and other study team members need, at the beginning of the trial, to assess the potential impact of missing data and take the practicable steps to reduce that impact.
Of course, that's predicated on having a statistician!
---
NUMBER 6:

INVOLVE THE STATISTICIAN EARLY AND OFTEN
The value of having a statistician on board can't be overstated. But there's a difference between having a statistician and involving one from day one.
Too often the statistician is treated as an honorary co-investigator, uninvolved in trial design and brought in only when trouble arises. One of the best ways to avoid having a trial go south is to involve your statistician at the outset.
Remember the words of Sir. Ronald Fisher, one of the founders of modern statistics, and the one who brought statistics to bear on scientific experimentation:
To call in the statistician after the experiment is done may be no more than asking them to perform a postmortem examination: they may be able to say what the experiment died of.

 
---
Don't wait for the postmortem or rescue: Invest your efforts in the front end.
---